Regeneration Guidelines: Recovery and Training are Interdependent
Aid your Recovery, Health and manage Stress so you can Feel Better, Move Better, and Perform Better!

Excessive stress occurs when the demands made on an organism exceed that organisms reasonable capacity to fulfill them.
Hans Selye
Sleep: 8 – 10 hrs. per night
Deep Wave Sleep – Physical Regeneration
Hormone Management – anabolic (GH) vs. stress (cortisol)
Tissue repair
REM Sleep – Mental Regeneration
Focus, alertness
Synapses are ingrained
Make your bedroom like a cave – dark and cool, with cell phone, computer, TV off, and asleep by 10PM
Breathing to Balance the Autonomic Nervous System (ANS)
To achieve high levels of performance all day, it is important to balance the ANS by breathing, sleeping and eating properly.
| EVENT | Breathing Tempo • IN – HOLD – EXHALE (Seconds) X = Explode |
| --- | --- |
| Wake Up Tired | 6 – 2 – X |
| Wake Up Anxious | 6 – 4 – 10 |
| Periodically During Day | 4 – 2 – 6 |
| Moments of Anxiety | 6 – 4 – 10 |
| Moments of Tiredness | 4 – 0 – X |
| Meditating | 8 – 4 – 12 |
| Before Meals | 4 – 2 – 6 |
| Bedtime | 6 – 4 – 12 |
Pre – Post Sleep/Mobility/Self Massage/Recovery – To Be Performed Daily
To improve muscle tissue health, the movement supplements and self-massage should be practiced daily. This can help promote improved tissue repair, muscle length-tension relationships, physical stability, and athletic performance.
Optional: Hydrotherapy:
The use of water for recovery, pain relief, is used to increase circulation, decrease inflammation, calm the nervous system, decrease stress, and help with regeneration.
Cold Plunge: 50 – 55 °F for 6 min. for 200 lbs. or less. 15 min. for 300 lbs. or more.
Contrast Plunge/Shower: 3 min. Cold showering alternating with 3 – 5 min. of Hot showering.
Hot Mineral Salts Bath: 97 – 104 °F
**Avoid long, slow, distance running – it causes stiffness, overuse injuries, and decreases power.
FUEL – BUILD – PROTECT – PREVENT – HYDRATE
Protein: .5 – 1 gram per lb. of body weight (Choose Organic Pasture Raised)
Amino acids found in protein are the building blocks of muscle.
If protein is not the primary macro – nutrient, then it does not count as a quality source of protein.
Best choices: Turkey, Chicken, Fish, Beef, other meats, and Whole Eggs
Other good options: Low fat/whole fat cottage cheese and Greek yogurt
It is very difficult to get 1g / lb. – it is important to get a good breakfast, and plan quality snacks.
Vegetables: Quantity – 8 servings / day Variety – 5 to 6 different colors (Choose Certified Organic)
Great source of nutrients, antioxidants, and fiber.
Help to buffer blood pH – acidic environments break down tissue, basic environments are good for rebuilding tissue.
*Avoid "White" Foods – protein and veggies are nutrient dense. "White foods" such as bread, pasta, rice, potatoes have very little nutritional value, and are converted to sugar very quickly.
Hydration: .5 – 1 oz. of Water per lb. of body weight
Water that is filtered is best. Tea and coffee do not count. Avoid liquid calories (juice, soda, alcohol, etc.)
Healthy Fats:
Fish Oil: Men = 3g EPA + DHA / Day Women = 1g EPA + DHA / Day
Avocados, Olive Oil, Coconut Oil, Almonds, Walnuts, Macadamia nuts
Click on the appropriate values to highlight:

= Sub-Optimal

= Fair

= Optimal
The recommended developmental phase and training intensity for each Daily Readiness Index level is:

 Sub-Optimal: Fundamental: Breathing, Gripping, Head-Eye Tracking, Reaching, Leg Raising, Supine, Rolling, Prone, Hip Flexion/Extension, Short Foot Posture. 0-40% and or 1-20 min. training session duration.

 Fair: Transitional: Quadruped, Rotary Stability, Trunk Stability, Crawling, Half Kneeling, Full Kneeling. 40-60% and or 20-40 min. training session duration.

Optimal: Functional: Lunging, Stepping, Squatting, Carrying, Gait, Skipping, Running, Deceleration, Acceleration, Jumping, and Hopping. 60-80% and or 40-60 min. training session duration.
Focus on keeping your totals as close to the green as possible. If you experience two days in a row where your Daily Readiness Index decreases take at least one day of TOTAL rest. If your Daily Readiness Index keeps decreasing, take a step back and correct whatever needs to be corrected. It may be: mindset, self-time, water consumption, sleep quantity, sleep quality, food quality or type, meal timing, movement (too little or too much). Keep your Daily Readiness Index as high as possible and soon you will be feeling consistently great. For further assistance see UpRight Movement's Regeneration Guidelines.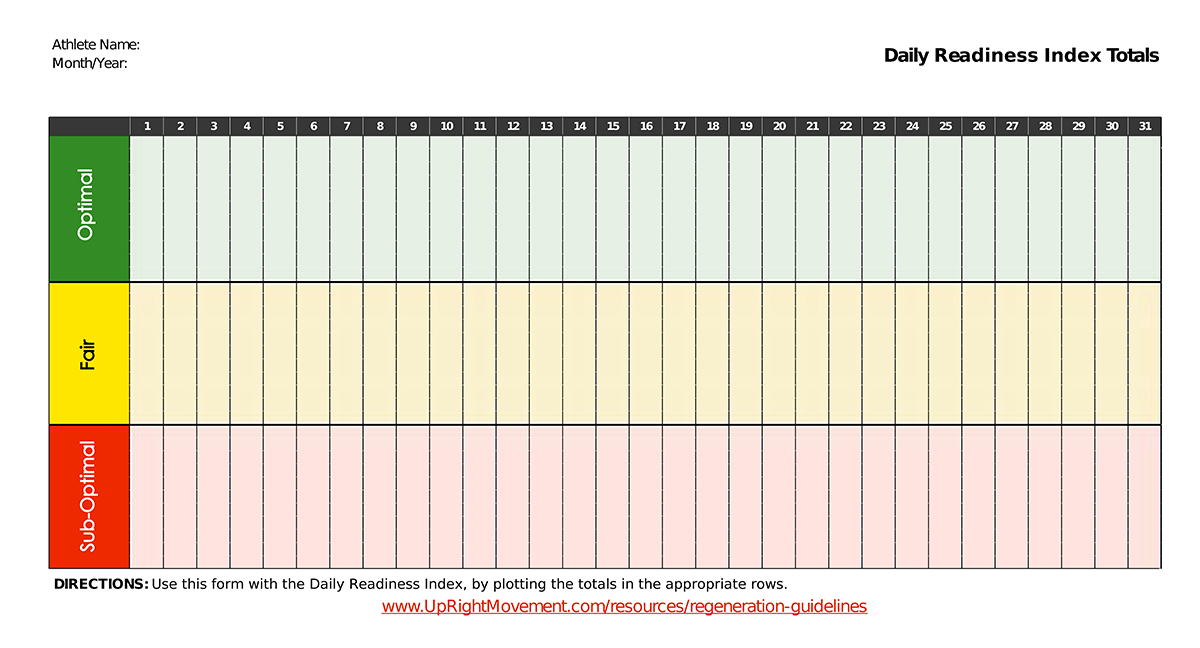 Download "Daily Readiness Index Troubleshoot"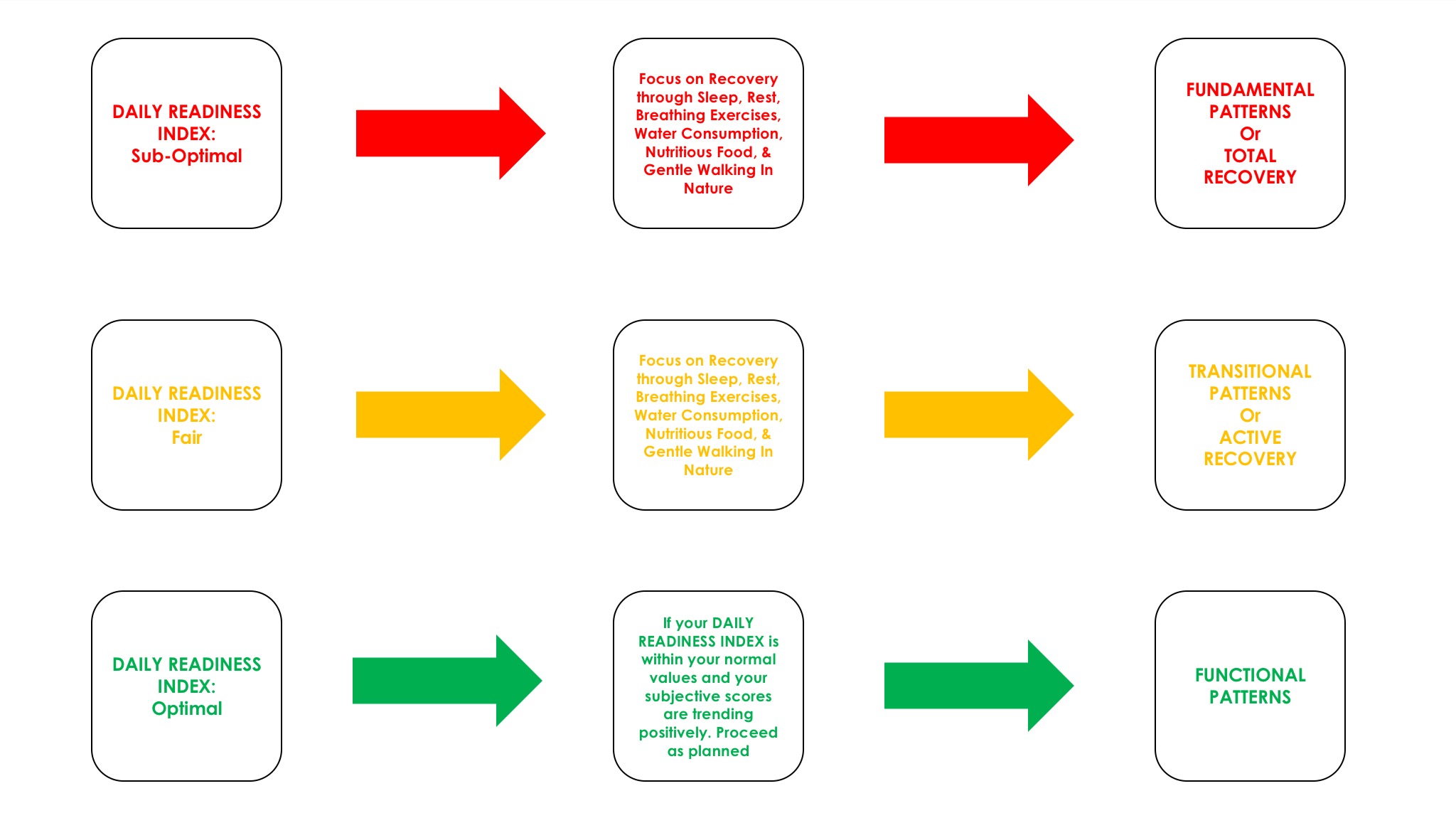 Download "Daily Readiness Index"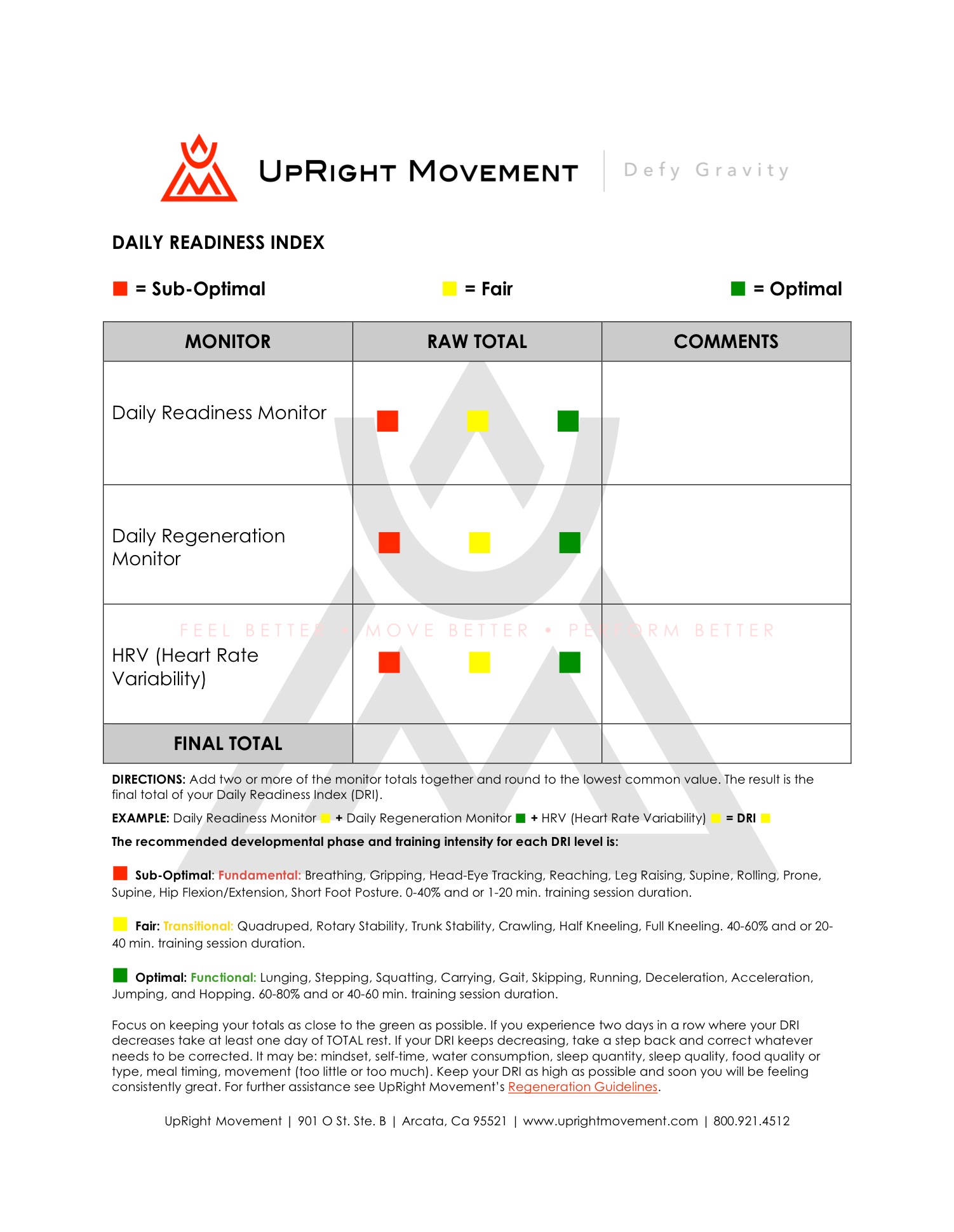 *SIX REASONS YOU MAY NEED TO FILL THE GAPS
MEDICAL DIAGNOSIS
SPECIFIC STRENGTH & POWER GOALS
INCREASED PHYSICAL ACTIVITY
DIGESTIVE ISSUES
INCREASED STRESS
KNOWN NUTRITION DEFICIENCY
*This statement has not been evaluated by the Food and Drug Administration. These products are not intended to diagnose, treat, cure, or prevent any disease.
---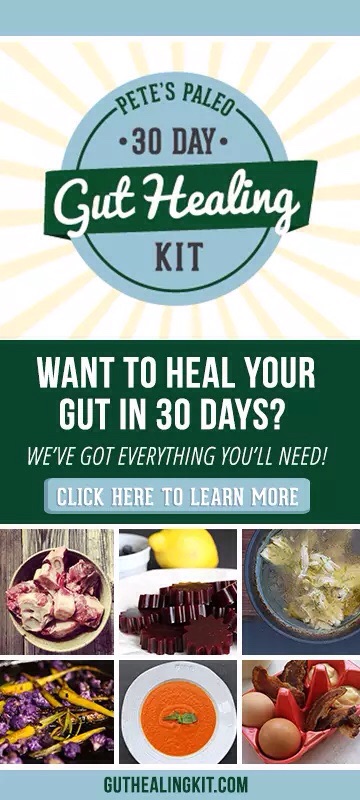 WellnessFX E-CHECKUP: Take Control Of Your Health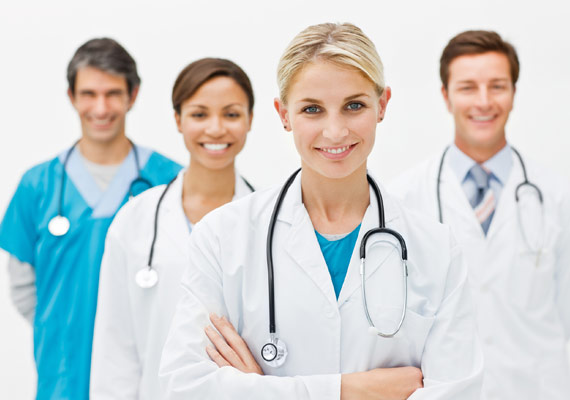 Take control of your health with our basic e-Checkup package, which includes 25+ biomarkers measuring cholesterol, complete blood count, organ function, thyroid, and more. A physician will review your lab results and notify you of any critical values. No appointment necessary. No waiting rooms. No referrals or co-pays required.
Notable Markers
Glucose:
A blood glucose test measures the amount of glucose, or sugar, in the blood. While glucose is the primary source of the body's energy, chronically elevated levels can lead to diabetes and cardiovascular disease.
TSH (thyroid-stimulating hormone):
The most common and officially recognized test to evaluate your thyroid. This overall measure of thyroid stimulation measures imbalances that could affect metabolism, weight, mood and temperature control.
Power Your Recovery, Health and Performance with WellnessFX Labs!
WellnessFX ADVANCED THYROID: Perform Your Best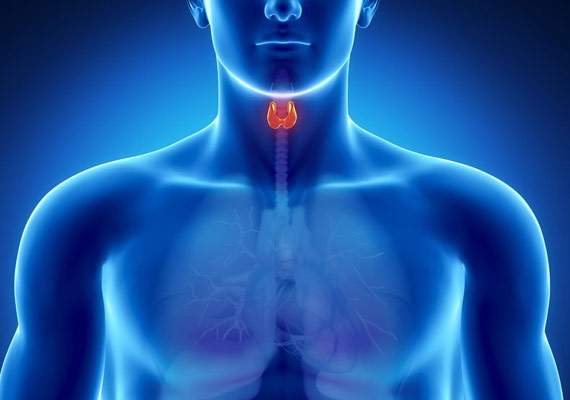 Over 10% of the U.S. population will have a thyroid condition at some point in their lifetime. Of those with thyroid disease, 60% are unaware that they have it. Thyroid imbalances are traditionally difficult to identify and diagnose, so WellnessFX has addressed this growing need. This product will help identify and improve thyroid challenges, especially for women. The information you learn here can put you on track to higher energy, better sleep, and better weight management.
Notable Markers
T3 & T4:
These are essential to metabolism and are both heavily influenced by iodine. They allow you to analyze and modify your body's efficiency in regulating energy, enabling you to enhance weight loss and decrease weight gain.
Power Your Recovery, Health and Performance with WellnessFX Labs!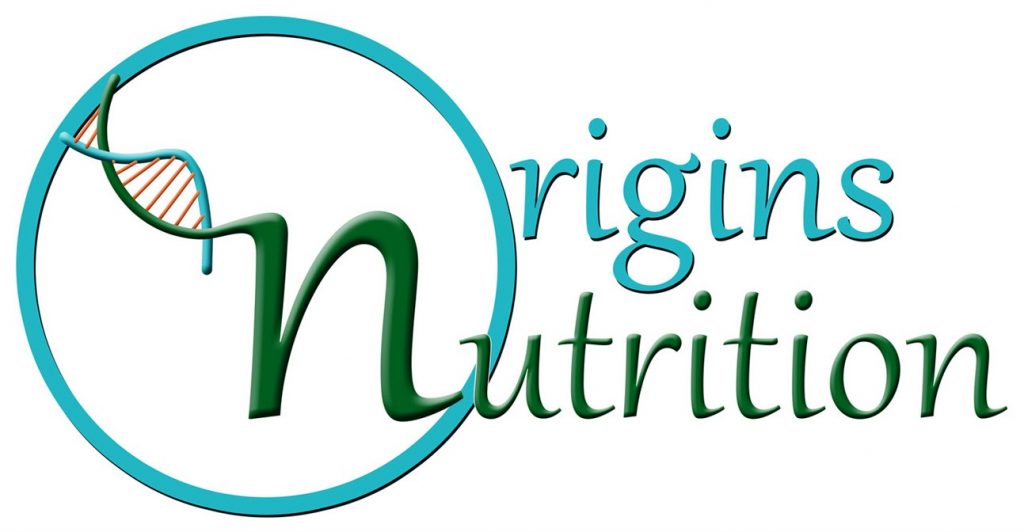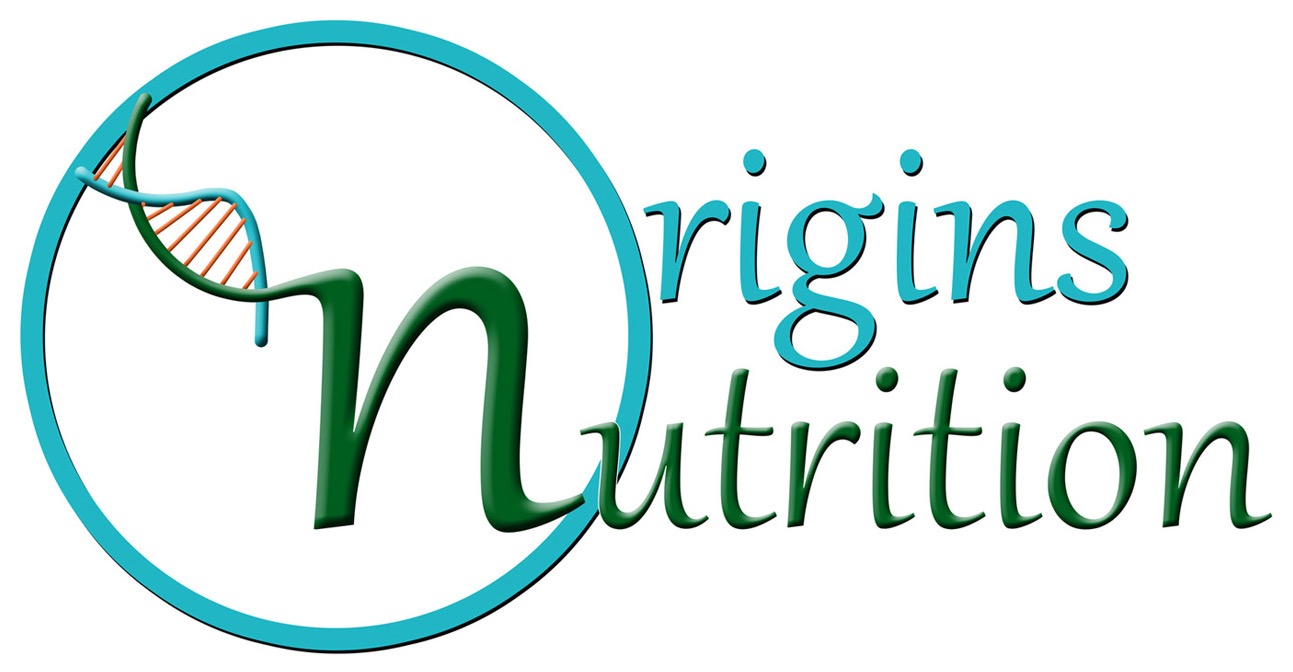 Origins Nutrition; where science and nature come together to provide realistic, evidence-based solutions to healthy eating and weight management. Offering nutrition and wellness consulting, meal planning for restaurants and travel, digestive troubleshooting, and much more. To help fulfill our shared vision and sense of responsibility to upgrade lives, we offer 10 – 20% savings on our services when combined.
Recommended Reading:
You Are What You Eat
The Thyroid Sessions

The energy and hormonal balances of our body is greatly influenced from the health and function of the thyroid. Perhaps for some this is the missing link, to their energy and bodyweight challenges.
Finally Learn the Formula for Healing Your Thyroid from 24 of the World's Most Renowned Thyroid Experts, So You Can Move on with Your Life!
You will have lifetime on-line access that is downloadable. The expert presentations are in multiple format of audio, video, and PDF transcripts, plus bonuses.
Paleo Summit

Animal protein and fats are the preferred resources that help with cell and hormonal integrity for the human body. Modern agriculture and processed foods is abstract to the long history and success of how our nomadic ancestors primarily ate.  Perhaps for some this is the missing link, to their energy, bodyweight, and performance challenges.
Not all Animal Protein and Fat is equal nor should it be feared. Learn from 24 of the leading experts on the topic of Paleo eating, established authors, researchers, educators, medical, and holistic practitioners.
Receive answers to: Exactly which foods are allowed — and not allowed — on a paleo/primal diet? What are the most effective strategies for implementing this way of eating? What's the best way to transition your family to the paleo lifestyle while keeping food fun for the kids…and the adults? How can you reset your hormonal system and put your body into fat-burning mode? Are the claims made by Paleo proponents always as scientifically sound as we think they are? What is gluten sensitivity and what are its connections to autoimmunity, bone loss, and muscle pain? What are the most effective strategies for troubleshooting the diet for those with digestive disorders? Is there any truth to the claims that the consumption of animal foods causes heart disease and other degenerative diseases? Can endurance athletes perform optimally on a paleo diet? Along with several other questions that you may have.
You will have lifetime on-line access that is downloadable. The expert presentations are in multiple format of audio, video, and PDF transcripts, plus bonuses.
Precision Nutrition Encyclopedia of Food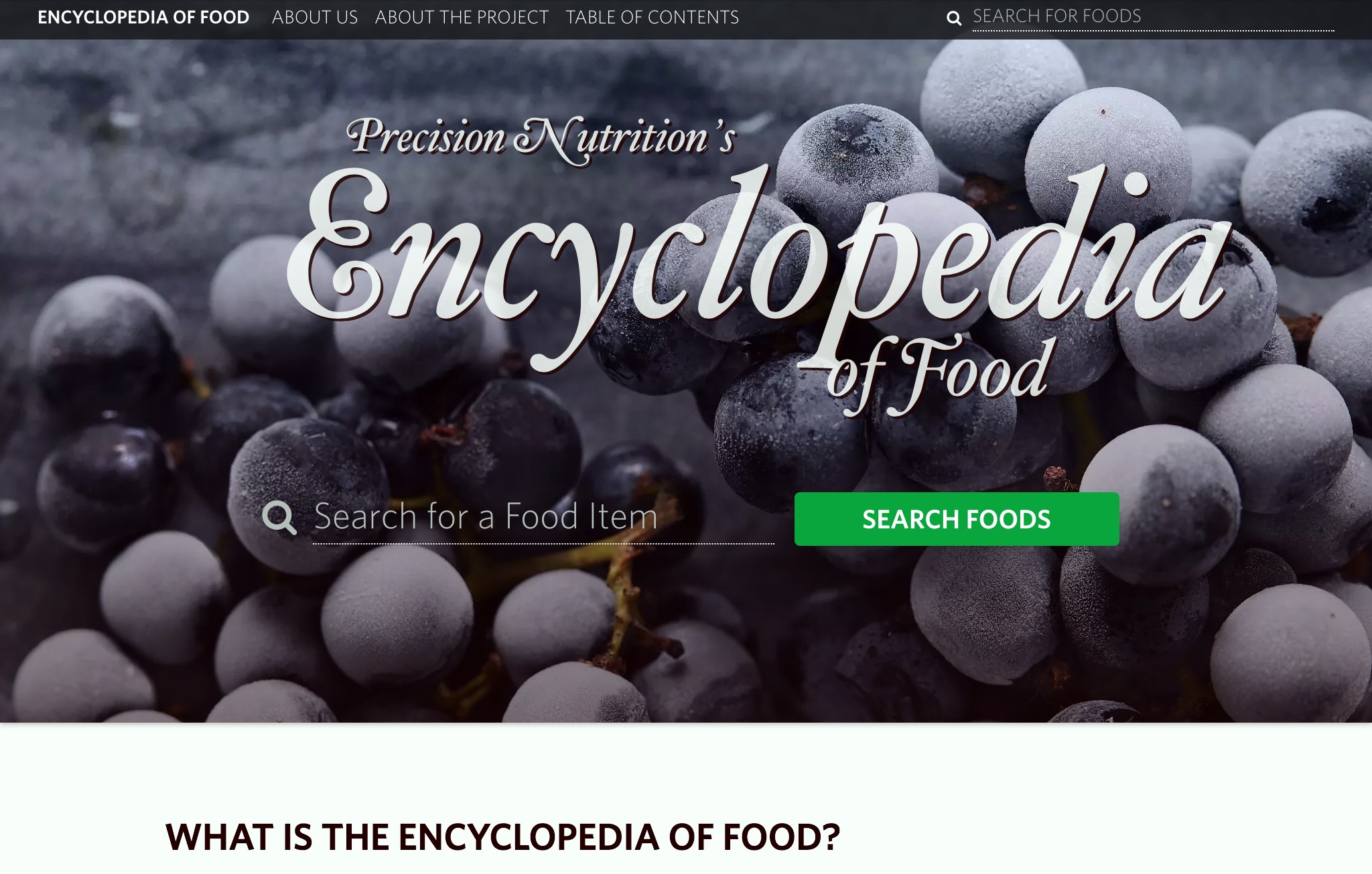 Precision Nutrition's Encyclopedia of Food is a collection of nutrition information and healthy food recipes. New foods and recipes are added regularly, so make sure to sign up for updates!