Regeneration Guidelines: Recovery and Training are Interdependent
Aid your Recovery, Health and manage Stress so you can Feel Better, Move Better, and Perform Better!

Excessive stress occurs when the demands made on an organism exceed that organisms reasonable capacity to fulfill them.
Hans Selye
Sleep: 8 – 10 hrs. per night
Deep Wave Sleep – Physical Regeneration
Hormone Management – anabolic (GH) vs. stress (cortisol)
Tissue repair
REM Sleep – Mental Regeneration
Focus, alertness
Synapses are ingrained
Make your bedroom like a cave – dark and cool, with cell phone, computer, TV off, and asleep by 10PM
Breathing to Balance the Autonomic Nervous System (ANS)
To achieve high levels of performance all day, it is important to balance the ANS by breathing, sleeping and eating properly.
| EVENT | Breathing Tempo • IN – HOLD – EXHALE (Seconds) X = Explode |
| --- | --- |
| Wake Up Tired | 6 – 2 – X |
| Wake Up Anxious | 6 – 4 – 10 |
| Periodically During Day | 4 – 2 – 6 |
| Moments of Anxiety | 6 – 4 – 10 |
| Moments of Tiredness | 4 – 0 – X |
| Meditating | 8 – 4 – 12 |
| Before Meals | 4 – 2 – 6 |
| Bedtime | 6 – 4 – 12 |
Pre – Post Sleep/Mobility/Self Massage/Recovery – To Be Performed Daily
To improve muscle tissue health, the movement supplements and self-massage should be practiced daily. This can help promote improved tissue repair, muscle length-tension relationships, physical stability, and athletic performance.
Optional: Hydrotherapy:
The use of water for recovery, pain relief, is used to increase circulation, decrease inflammation, calm the nervous system, decrease stress, and help with regeneration.
Cold Plunge: 50 – 55 °F for 6 min. for 200 lbs. or less. 15 min. for 300 lbs. or more.
Contrast Plunge/Shower: 3 min. Cold showering alternating with 3 – 5 min. of Hot showering.
Hot Mineral Salts Bath: 97 – 104 °F
**Avoid long, slow, distance running – it causes stiffness, overuse injuries, and decreases power.
FUEL – BUILD – PROTECT – PREVENT – HYDRATE
Protein: .5 – 1 gram per lb. of body weight (Choose Organic Pasture Raised)
Amino acids found in protein are the building blocks of muscle.
If protein is not the primary macro – nutrient, then it does not count as a quality source of protein.
Best choices: Turkey, Chicken, Fish, Beef, other meats, and Whole Eggs
Other good options: Low fat/whole fat cottage cheese and Greek yogurt
It is very difficult to get 1g / lb. – it is important to get a good breakfast, and plan quality snacks.
Vegetables: Quantity – 8 servings / day Variety – 5 to 6 different colors (Choose Certified Organic)
Great source of nutrients, antioxidants, and fiber.
Help to buffer blood pH – acidic environments break down tissue, basic environments are good for rebuilding tissue.
*Avoid "White" Foods – protein and veggies are nutrient dense. "White foods" such as bread, pasta, rice, potatoes have very little nutritional value, and are converted to sugar very quickly.
Hydration: .5 – 1 oz. of Water per lb. of body weight
Water that is filtered is best. Tea and coffee do not count. Avoid liquid calories (juice, soda, alcohol, etc.)
Healthy Fats:
Fish Oil: Men = 3g EPA + DHA / Day Women = 1g EPA + DHA / Day
Avocados, Olive Oil, Coconut Oil, Almonds, Walnuts, Macadamia nuts
Click here to learn how to use Daily Readiness Monitor.
Low Priority: 60-80%
*An Above Morning Heart Average is the principle-determining factor to your level of readiness.
*When first using the Daily Readiness Monitor, establish a baseline after the first week of monitoring.
Once a baseline total has been established, emphasize that the totals stay as close to the green as possible.
If you experience two days in a row where the total increases above the baseline*
(*based on the last 7 days) take at least one day of total rest.
The Pillars of long lasting change are: Mindset, Recovery, Nutrition/Hydration, and Movement.
For further assistance see UpRight Movement's Regeneration Guidelines.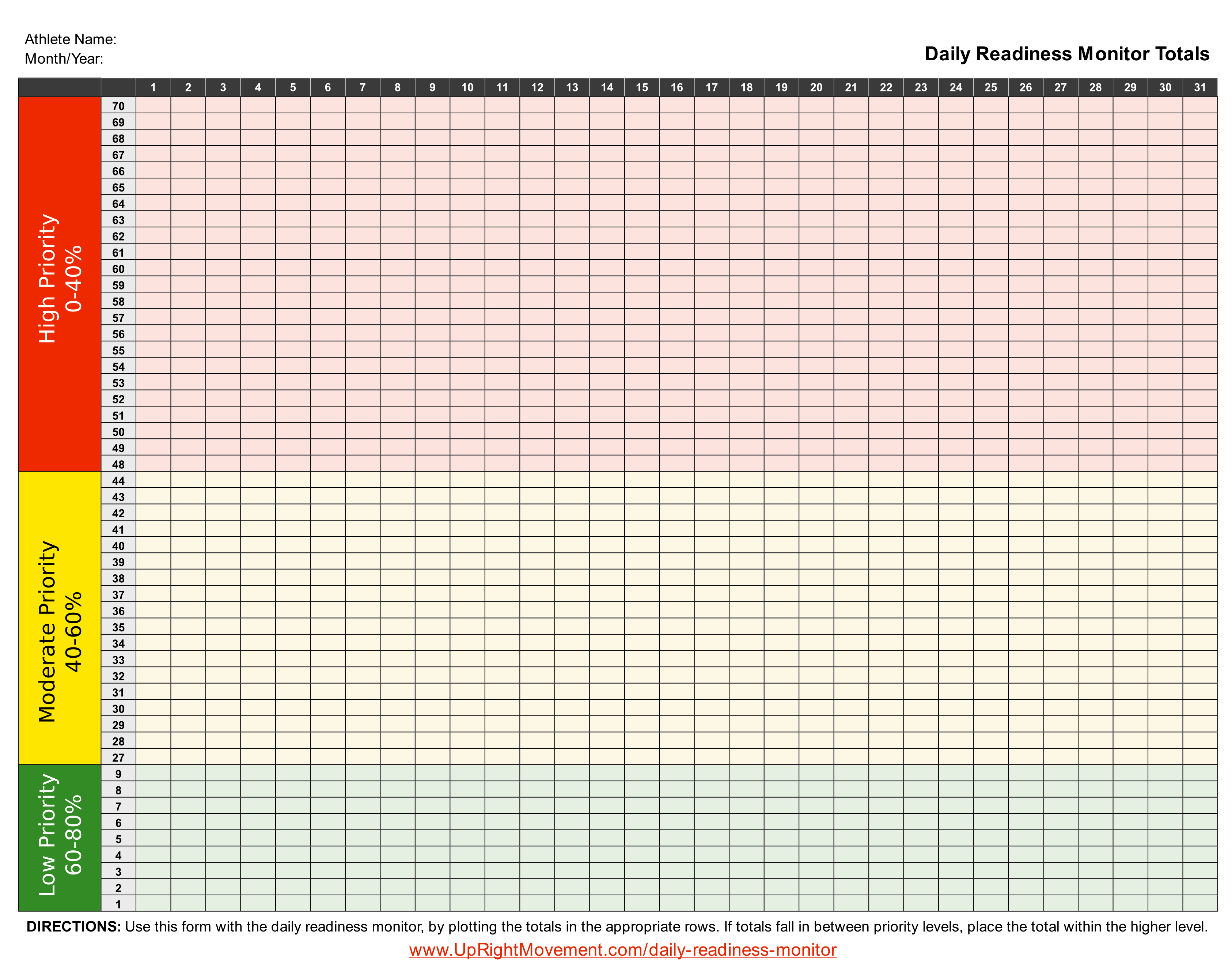 Download "Daily Readiness Monitor"
Download "Daily Readiness Monitor Troubleshoot"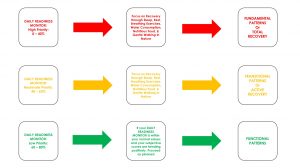 Download "Physiological Load Options"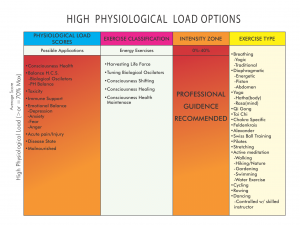 Download "Balancing Stress Training"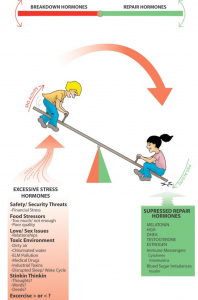 Download "Stress and Training"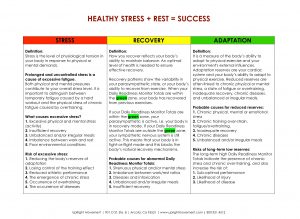 Click on the appropriate values to highlight:

= Sub-Optimal

= Fair

= Optimal
The recommended developmental phase and training intensity for each Daily Readiness Index level is:

 Sub-Optimal: Fundamental: Breathing, Gripping, Head-Eye Tracking, Reaching, Leg Raising, Supine, Rolling, Prone, Hip Flexion/Extension, Short Foot Posture. 0-40% and or 1-20 min. training session duration.

 Fair: Transitional: Quadruped, Rotary Stability, Trunk Stability, Crawling, Half Kneeling, Full Kneeling. 40-60% and or 20-40 min. training session duration.

Optimal: Functional: Lunging, Stepping, Squatting, Carrying, Gait, Skipping, Running, Deceleration, Acceleration, Jumping, and Hopping. 60-80% and or 40-60 min. training session duration.
Focus on keeping your totals as close to the green as possible. If you experience two days in a row where your Daily Readiness Index decreases take at least one day of TOTAL rest. If your Daily Readiness Index keeps decreasing, take a step back and correct whatever needs to be corrected. It may be: mindset, self-time, water consumption, sleep quantity, sleep quality, food quality or type, meal timing, movement (too little or too much). Keep your Daily Readiness Index as high as possible and soon you will be feeling consistently great. For further assistance see UpRight Movement's Regeneration Guidelines.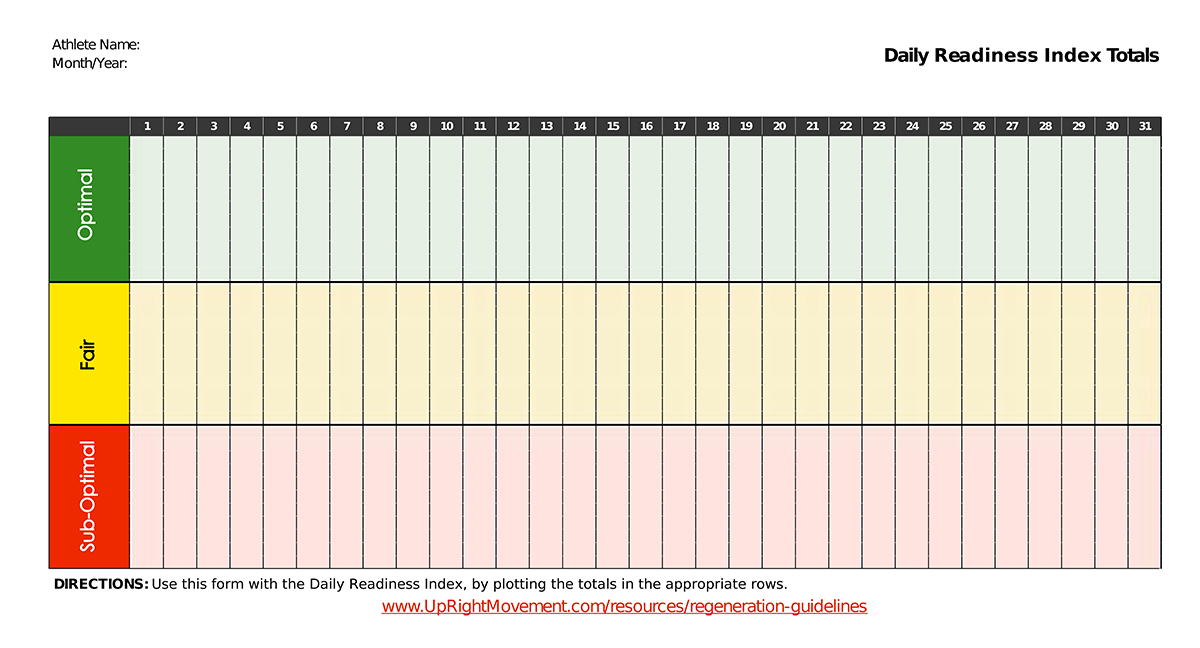 Download "Daily Readiness Index Troubleshoot"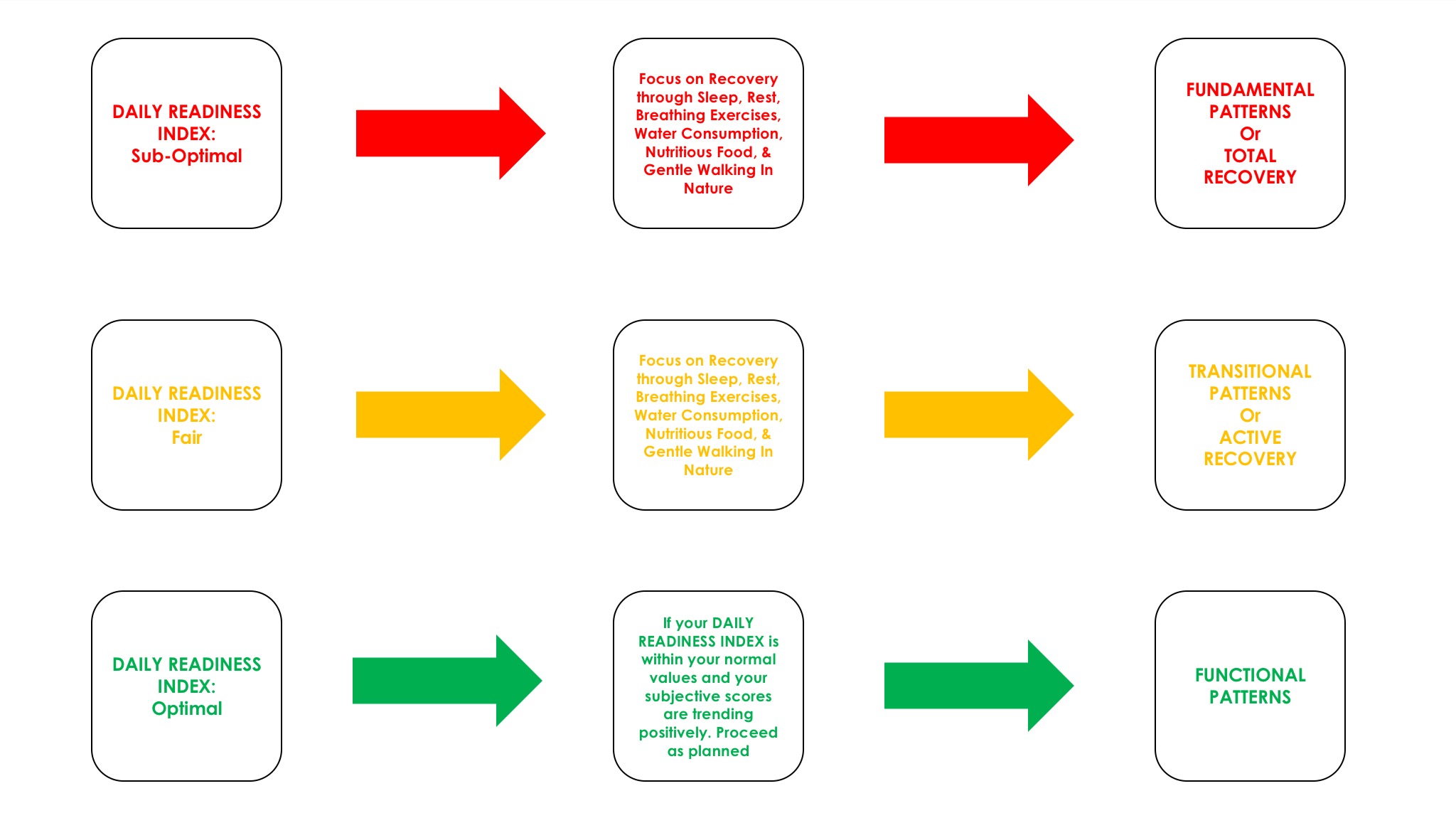 Download "Daily Readiness Index"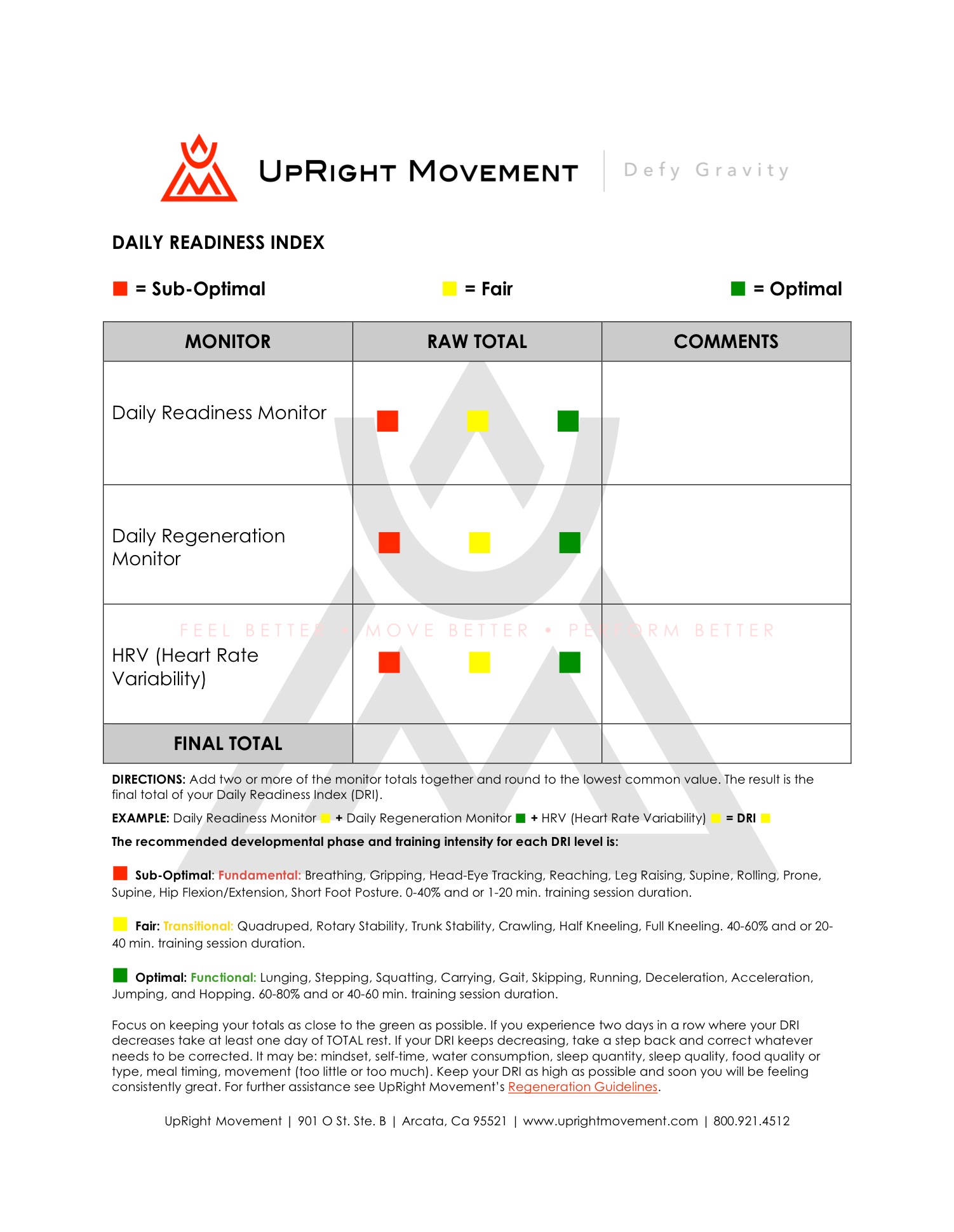 *SIX REASONS YOU MAY NEED TO FILL THE GAPS
MEDICAL DIAGNOSIS
SPECIFIC STRENGTH & POWER GOALS
INCREASED PHYSICAL ACTIVITY
DIGESTIVE ISSUES
INCREASED STRESS
KNOWN NUTRITION DEFICIENCY
*This statement has not been evaluated by the Food and Drug Administration. These products are not intended to diagnose, treat, cure, or prevent any disease.
---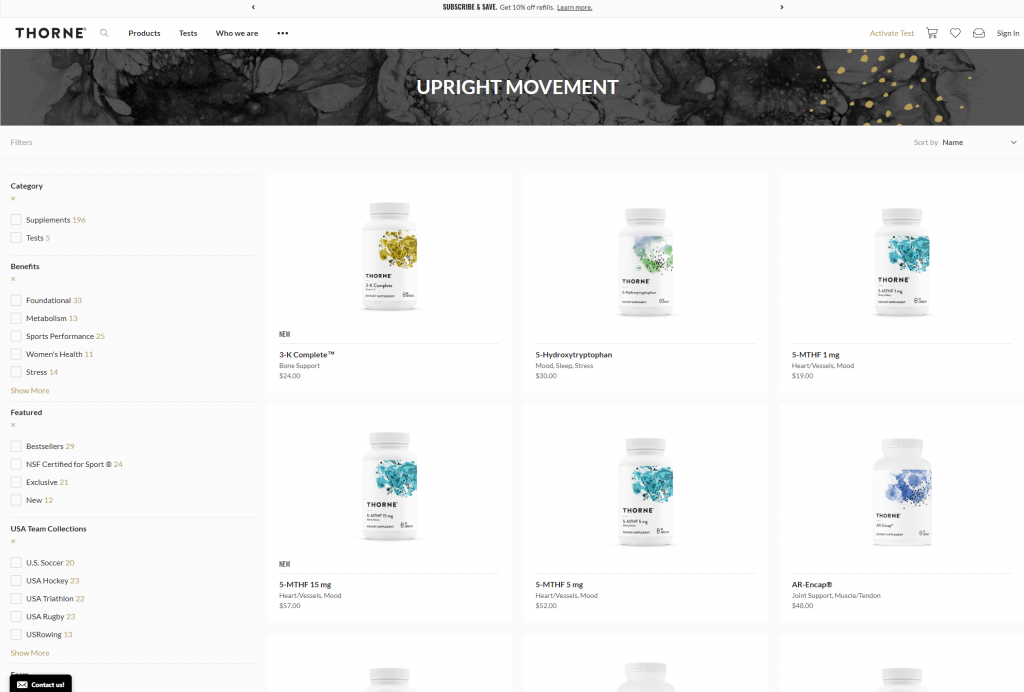 The line of  THORNE Performance Nutrition branded products has been discontinued and rebranded under one of the most respected supplement companies in the world, the Thorne Research line of products. These are the same great products as before — just with a different label.

Power Your Recovery, Health and Performance with THORNE RESEARCH: Sports Performance!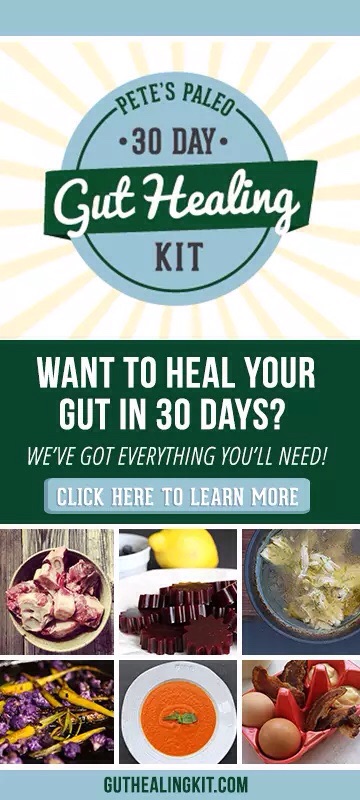 If you are you looking to heal your gut, our 30 Day Gut Healing Kit is the perfect supplement to an anti-inflammatory diet such as Paleo, GAPS, SCD, SIBO, Body Ecology, etc.
ABOUT THE 30 DAY GUT HEALING KIT
WHAT DOES THE KIT INCLUDE?
Each kit contains:
30 days bone broth in 10 easy-to-store, resealable containers
30 coconut cream chai flavored gelatin gummies for coffee/tea or snacking
30 berry & mint or green tea & ginger flavored gelatin gummies for snacks
15 soup "packs" consisting of dehydrated veggies – just add broth to make into an instant meal
Tips & Tricks to help your 30 day gut reboot
e-cookbook featuring 25 gut healing recipes by Paleo By Season author, Peter Servold
BONE BROTH
WHAT ARE THE BENEFITS OF BONE BROTH?
Broth is considered to be both a food and a medicine! It's known to heal the skin, gut, GI tract, aid in digestion or help you beat that cold you've been suffering from. Because broth is an extract of connective tissue, it is great for ailments affecting, joints, bones, lungs, muscle and blood. Incorporating bone broth into your established eating patterns can yield tremendous medicinal effects. A cup a day keeps the doctor away!
"Stock contains minerals in a form the body can absorb easily—not just calcium but also magnesium, phosphorus, silicon, sulphur and trace minerals. It contains the broken down material from cartilage and tendons–stuff like chondroitin sulphates and glucosamine, now sold as expensive supplements for arthritis and joint pain." Sally Fallon, Weston A. Price Foundation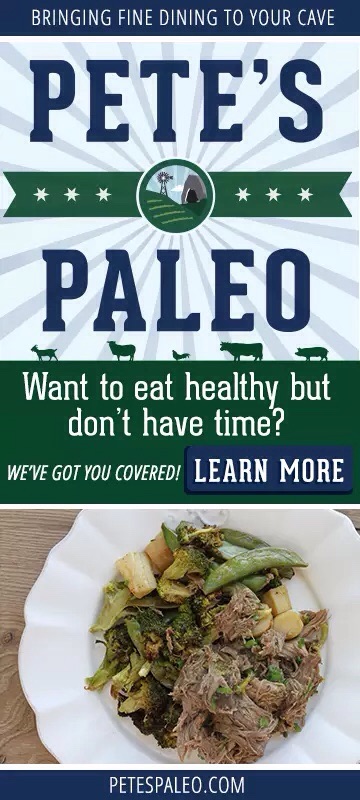 For those who are short on time, and want great tasting high quality healthy meals.
Buy Pete's Paleo ready-to-eat Paleo meals!
ABOUT PETE'S PALEO
What distinguishes Pete's Paleo from other meal delivery services?
Great question! Here's the deal. Pete is a classically trained chef from Le Cordon Bleu and has worked in the restaurant industry for over 15 years. He is an artist and food is his medium. Given that Pete's Paleo puts a high importance on using seasonal ingredients, Pete takes pride in ensuring that each time that specific ingredient makes an appearance on our menu during the season, it's treated differently each time – different spices and cooking methods – so that you're not bored and everything tastes different each week!
Pete's Paleo has direct relationships with our farms and ranches. We believe it's important to know who is responsible for providing the food that we cook for each of you. We are cooking produce that was harvested out of the ground that day (sometimes the day before). Produce at the pinnacle of freshness means more nutrients for you!
And yes of course, all of our meals are completely gluten free, dairy free, soy free and we don't use sweeteners of any kind (even natural).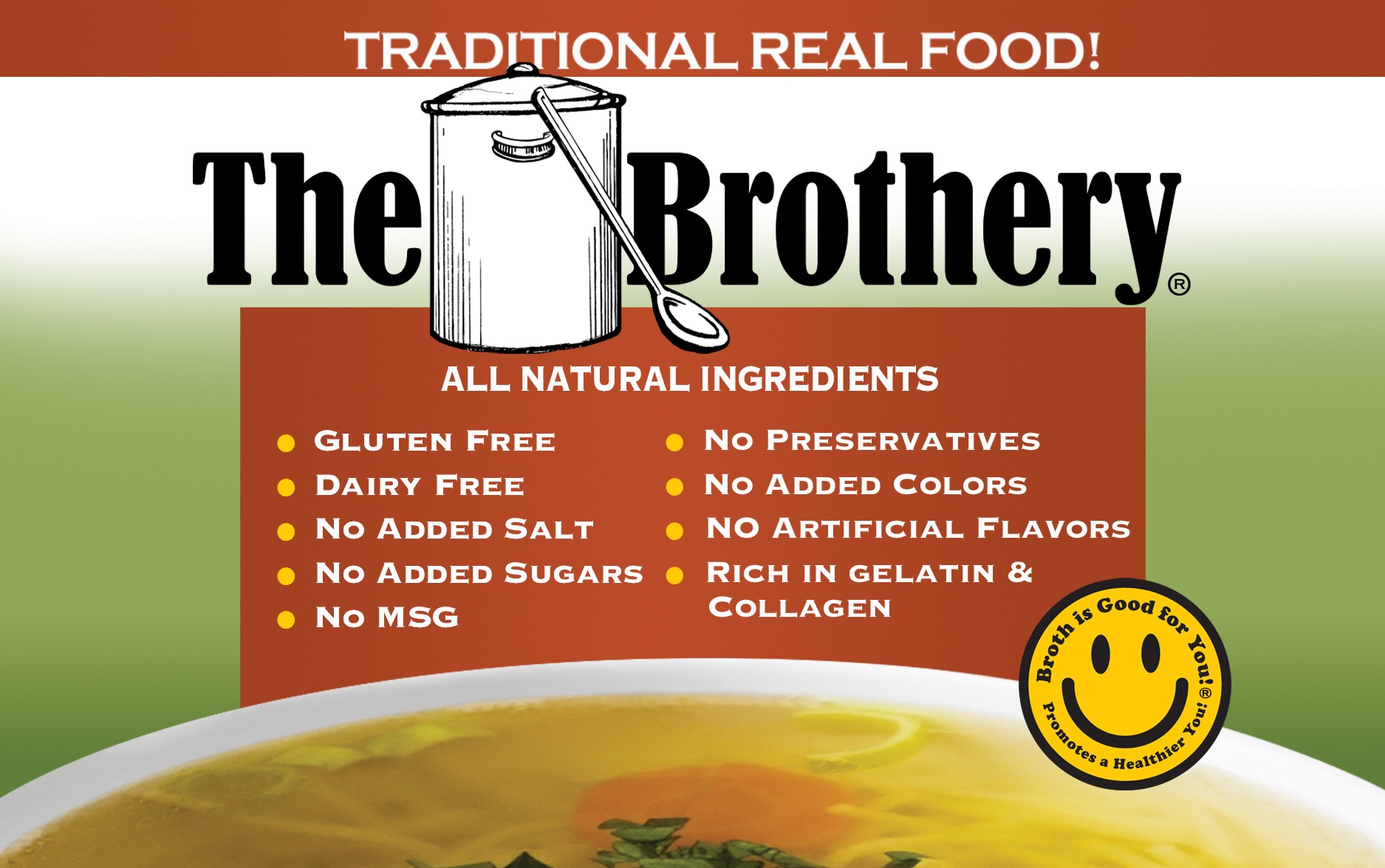 Whether you're injured, need to heal your gut fast, build muscle, need more natural sources of minerals and electrolytes in your diet, or simply want to drink, sip and cook with some the most nourishing liquid food on the face of the planet, this organic bone broth is the ultimate done-for-you solution.
Creator of The Brothery bone broth and Executive Chef Lance Roll puts his 20-year diverse culinary career and education as a health and nutrition professional into each special batch of bone broth to create the healthiest broth on the face of the planet – which is then quickly frozen and shipped to your door for the ultimate, easy bone broth experience. So now even if you don't have the time or resources to make your own bone broth, it's now done for you and shipped anywhere in the continental US.
Each batch of flavorful, nourishing, bone-growing, muscle-building and body and gut-healing organic bone broth from The Brothery is made in small batches using locally-grown, organic produce and free-range, humanely-raised meats and poultry – so you get no harmful hormones or toxins in your nourishing broth.
Kettle & Fire bone broth is made with bones from organically raised chickens or cattle, then slow simmered for a solid 24 hours with organic vegetables, sea salt and herbs. All that simmer-time extracts insane amounts of protein, not to mention glycine, glucosamine, calcium, magnesium, phosphorus, and potassium. That's a long list of goodness, all of which your body converts into energy, stronger muscles, and a more effective immune system. Bone broth is also an amazing source of collagen, which is great for your skin, hair, nails and bones.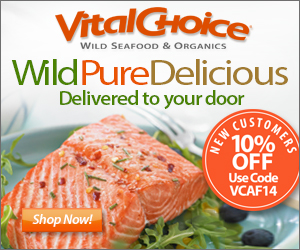 Vital Choice is a trusted source for fast home delivery of the world's finest wild seafood and organic fare, harvested from healthy, well-managed wild fisheries and farms.
We back that claim with our 100% Guarantee … if you're not delighted, we'll gladly replace or refund your purchase!
Leading health and wellness experts endorse Vital Choice as a leading source of pure, healthful, sustainable foods of exceptional quality … including our pioneering omega-3 wild Alaskan salmon oil supplements of rare "whole food" character.
We capture the fresh-caught quality of fine, sustainably harvested Alaskan salmon and other Alaskan and northwest Pacific seafood by cleaning and flash-freezing it within hours of harvest.
The fisheries that supply most of our seafood are certified sustainable by MSC (look for their blue logo) or the State of Alaska, or are widely considered sustainable.
And to further support lives of health and sustainability, Vital Choice offers selected Organic, Natural, and Kosher foods, picked for their superior nutritional and culinary qualities.
---
The Vital Choice Advantage
Our overriding mission is to provide the highest quality, sustainably produced foods, and thereby promote our customers' health and well-being.

Founded by lifelong farmer John Wood, U.S. Wellness Meats grew out of John's realization that there was a unique way of raising cattle for a growing niche of U.S. consumers who were beginning to understand the health benefits of CLA and omega-3s from free-range meat.
A fifth-generation farmer, John was used to thinking like his ancestors and his neighbors when it came to raising animals. In a nutshell, this old method meant growing the animal on pasture, feeding them grain in confinement for the final four months, and then selling them off to a big animal processor when it was time for them to be harvested. But with a little experimentation, he discovered the old method might not be the only method. In 1997, 1998 and 1999, John raised animals on a 100% forage diet and had the proof he needed: there was another way to get tender and exquisite-tasting beef, lamb, bison, goat and dairy products.
One of the key secrets of the new model? Keeping the best quality forage in front of animals on a daily basis with a rotation grazing sequence. This traditional method mimics how buffalo grazed in North America for centuries, and it is the critical difference between 21st-century grass-fed and the old 1950's model.

Complete Protein – Complete You!
Bone Broth Protein is all-natural, GMO Free, low-carb, low-sugar, dairy free, soy free, grain free, Paleo-friendly and gut-friendly so anyone and everyone can use it.
Bone broth protein is rich in protein, collagen, gelatin, glucosamine, chondroitin and key minerals often missing in the diet. These vital nutrients support a wide range of health benefits and body systems including: Gut And Immune System, Joints And Lean Muscle Mass, Skin, Hair And Nails, Metabolism And A Healthy Weight.
BONE BROTH PROTEIN IS SIMPLE AND EASY! SO WHAT ARE YOU WAITING FOR GET YOUR BROTH ON TODAY!
Bone Broth Protein is loaded with type 2 collagen and also contains vital minerals, including potassium, magnesium, calcium, selenium, glycosaminoglycans (GAGs), hyaluronic acid, glucosamine and chondroitin. It's high in proline and glutamine– which are amino acids that support the digestive system.
Power Your Recovery, Health and Performance with Bone Broth Protein!
WellnessFX E-CHECKUP: Take Control Of Your Health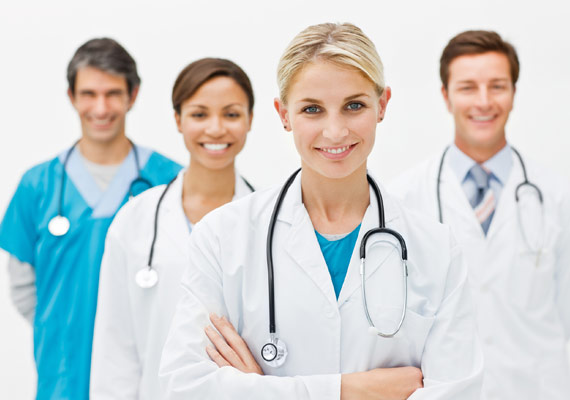 Take control of your health with our basic e-Checkup package, which includes 25+ biomarkers measuring cholesterol, complete blood count, organ function, thyroid, and more. A physician will review your lab results and notify you of any critical values. No appointment necessary. No waiting rooms. No referrals or co-pays required.
Notable Markers
Glucose:
A blood glucose test measures the amount of glucose, or sugar, in the blood. While glucose is the primary source of the body's energy, chronically elevated levels can lead to diabetes and cardiovascular disease.
TSH (thyroid-stimulating hormone):
The most common and officially recognized test to evaluate your thyroid. This overall measure of thyroid stimulation measures imbalances that could affect metabolism, weight, mood and temperature control.
Power Your Recovery, Health and Performance with WellnessFX Labs!
WellnessFX ADVANCED THYROID: Perform Your Best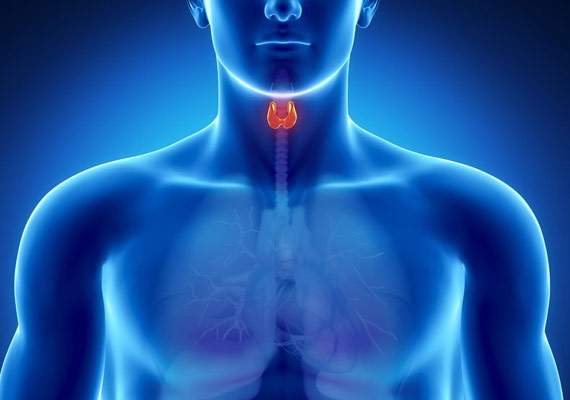 Over 10% of the U.S. population will have a thyroid condition at some point in their lifetime. Of those with thyroid disease, 60% are unaware that they have it. Thyroid imbalances are traditionally difficult to identify and diagnose, so WellnessFX has addressed this growing need. This product will help identify and improve thyroid challenges, especially for women. The information you learn here can put you on track to higher energy, better sleep, and better weight management.
Notable Markers
T3 & T4:
These are essential to metabolism and are both heavily influenced by iodine. They allow you to analyze and modify your body's efficiency in regulating energy, enabling you to enhance weight loss and decrease weight gain.
Power Your Recovery, Health and Performance with WellnessFX Labs!
Recommended Reading:
You Are What You Eat
The Thyroid Sessions

The energy and hormonal balances of our body is greatly influenced from the health and function of the thyroid. Perhaps for some this is the missing link, to their energy and bodyweight challenges.
Finally Learn the Formula for Healing Your Thyroid from 24 of the World's Most Renowned Thyroid Experts, So You Can Move on with Your Life!
You will have lifetime on-line access that is downloadable. The expert presentations are in multiple format of audio, video, and PDF transcripts, plus bonuses.
Paleo Summit

Animal protein and fats are the preferred resources that help with cell and hormonal integrity for the human body. Modern agriculture and processed foods is abstract to the long history and success of how our nomadic ancestors primarily ate.  Perhaps for some this is the missing link, to their energy, bodyweight, and performance challenges.
Not all Animal Protein and Fat is equal nor should it be feared. Learn from 24 of the leading experts on the topic of Paleo eating, established authors, researchers, educators, medical, and holistic practitioners.
Receive answers to: Exactly which foods are allowed — and not allowed — on a paleo/primal diet? What are the most effective strategies for implementing this way of eating? What's the best way to transition your family to the paleo lifestyle while keeping food fun for the kids…and the adults? How can you reset your hormonal system and put your body into fat-burning mode? Are the claims made by Paleo proponents always as scientifically sound as we think they are? What is gluten sensitivity and what are its connections to autoimmunity, bone loss, and muscle pain? What are the most effective strategies for troubleshooting the diet for those with digestive disorders? Is there any truth to the claims that the consumption of animal foods causes heart disease and other degenerative diseases? Can endurance athletes perform optimally on a paleo diet? Along with several other questions that you may have.
You will have lifetime on-line access that is downloadable. The expert presentations are in multiple format of audio, video, and PDF transcripts, plus bonuses.
Precision Nutrition Encyclopedia of Food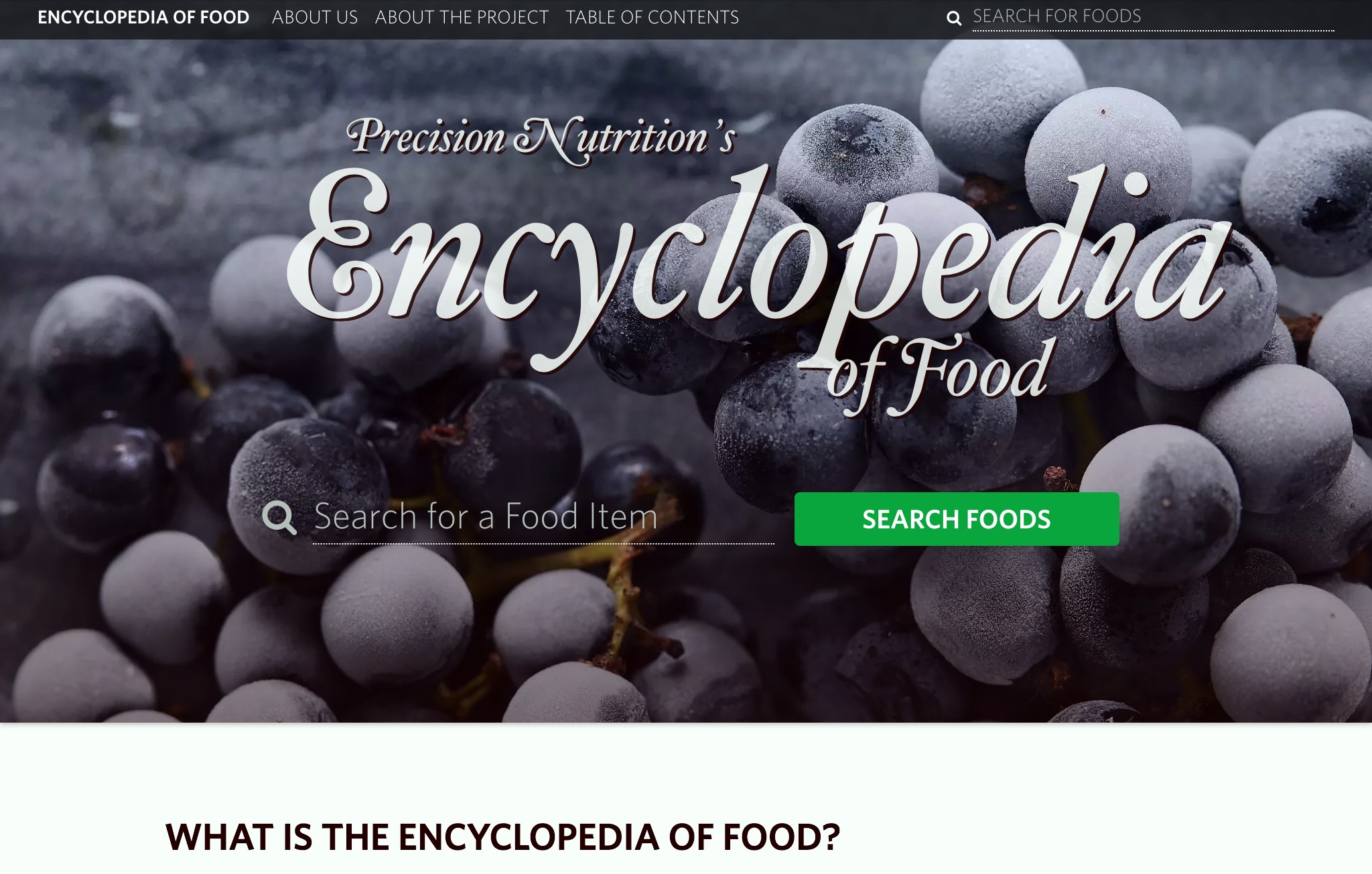 Precision Nutrition's Encyclopedia of Food is a collection of nutrition information and healthy food recipes. New foods and recipes are added regularly, so make sure to sign up for updates!